Longest Bavarian Dinner
from "Our Man in Deutschland"
Hallo folks! Welcome to another post from Our Man in Deutschland, Hophaus' official Berlin-based correspondent, sending all the latest brouhaha and festive brew-related goings on from the hoppy heart of Deutschland.
Does it get any better than settling in for a long session at a decadent dinner table?
Throughout history, the world has seen its share of fabulous dinners—flamboyant, larger than life, sometimes even heroic cases of gastronomic splendour. Whatever the occasion, there's a rudimentary formula at the heart of every truly great meal: fresh, exotic fare, endlessly magnificent lashings of drink, a lush setting, jovial company, and above all, more and more of everything!
…Imagine this scene for a moment: a sultry Autumn night; Southbank purring under amber glow; the clink of plates and glass; warming smells of succulent, fire roasted pork, cuts of juicy, tender meats, punctuated by round after round of crisp, decadent Bavarian biers, artfully matched to each and every morsel…
Imagination is about to come to life…
The longest and craziest dinners in history
For the very first time, Hophaus will be serving up Melbourne's Longest Bavarian Beer Dinner, a crowning event as part of the 2015 Melbourne Good Beer Week. The sit down is set to be a spectacular one, fit for rank amongst the best of them.
With that in mind, in the lead up to the exciting night, let's get our palettes cleansed, stomachs rumbling and tongues salivating with a cheeky international taste test of some of the wildest and heartiest, longest and craziest dinners in history (real and fictional).
England
In 1925, 8000 Freemasons sat together in Olympia, London to smash the Guinness World Record for the largest banquet ever held. The righteous feast was held as a fundraising effort for the War memorial fund, with over 1300 waitresses and 700 cooks and porters plating the colossal cook up out to five miles worth of tables.
In more recent times, former Master chef winner Gareth Kyle slaved in the kitchen for 41 hours non-stop last year to break the world record for the longest straight cooking demonstration. Kyle avoided sleep for two days straight in order to pump out over 100 different dishes, including confit of duck leg, fresh baked bread and an endless array of breakfast eggs. The record only stood if the food was consumed— the ravenous crowd at Eat! Festival, Newcastle were only too happy to oblige the wired chef's colossal output.
France
As with all things pleasure, the French are renowned for their fondness for extended, leisurely dine outs. With over 5,000 restaurants in Paris alone, it's hard not to find yourself suddenly chowing down cote de boeuf at a lavish bistrot table somewhere. Owning a paradoxically high life expectancy (given their core diet of wine and cheese) it could be said that life itself is but one long meal for the Französisch.
It's a fine line between gourmandising and criminality. On 17 August 1661, finance minister to Louis XIV, Nicolas Fouquet put on such an elaborate spread at his chateaux estate at Vaux-le-Vicomte that he was arrested and imprisoned for life. Known for his grandiose, tax-payer-footed soirees, flamboyance finally got the better of the noble Fouquet—his boss, the King, couldn't abide any further drains on state funds. (Would have been pretty good while it lasted).
Germany
Though admittedly the work of fiction (never let the truth get in the way of a good yarn), "Lights Out in Wonderland" by DBC Pierre depicts the 'Wonderland Banquet,' a 20th century Trimalchio-esque affair held in the terminal building of Berlin's Tempelhof airport. Guests include the who's who of international bankers, who pay diamonds for entry to the wild, illegal (if not highly unethical) 12-course feast, encompassing endangered species such as Panda, Galapagos Tortoise and Koala (!) In Trimalchio style, post-desert activities decay into a hefty, nightlong orgy.
India
In 1995, one time Tamil Nadu chief minister and movie star, Jayalalitha Jayaram hosted a reception banquet for 150,000 guests at her son's wedding held on her 50-acre property in Madras, India. The wedding took place inside an ad-hoc fortress adorned with cannons and mythological creatures; the grounds, littered with rose petals, Greek columns and gaudy papier-mache models of Indian princes in lurid sexual poses. The raucous banquet cost US$23,299,162, with an estimated $621,311 on the menu alone.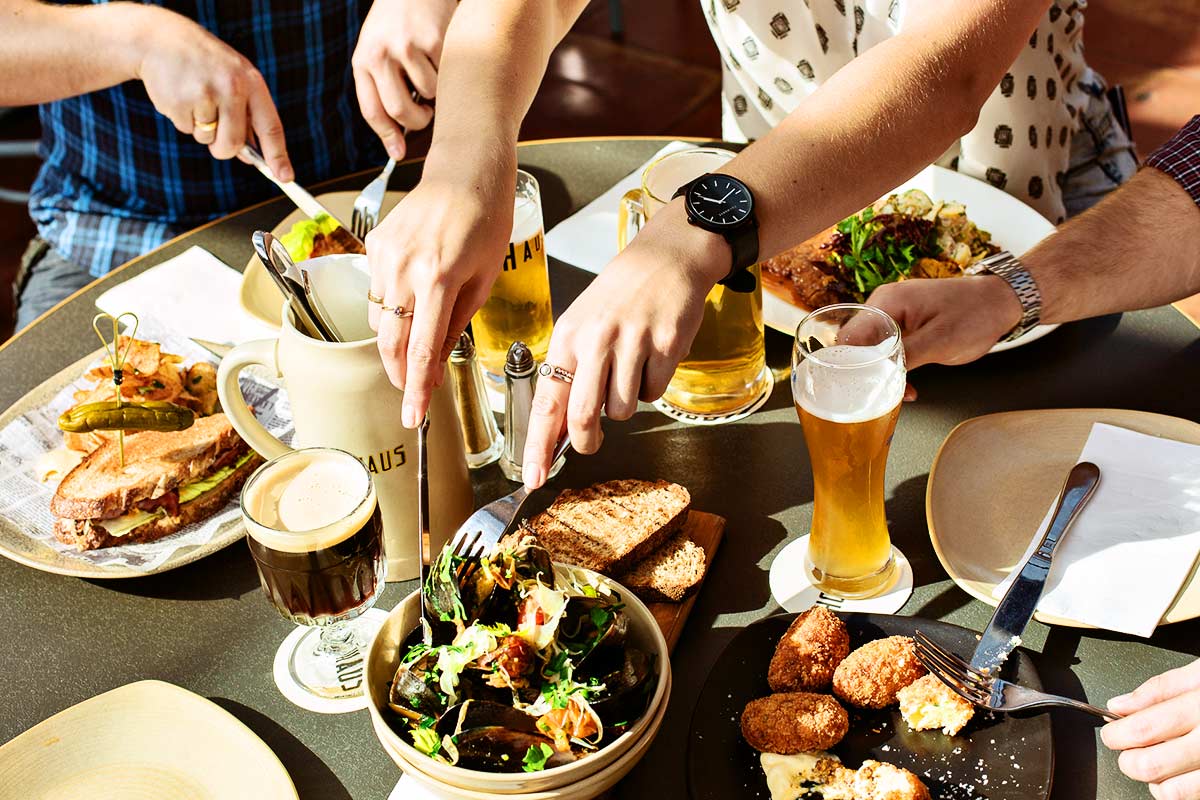 Australia
…Well, you're already up on this one—seats are selling super fast for the Longest Bavarian Beer Dinner, a much-anticipated one night only Hophaus dining event.
While we can't guarantee it'll be on par with Trimalchio's raunchiness, or Fouquet's illegal flamboyance, we can guarantee a sumptuous explosion of Bavarian delights, and a long one at that—expect the best of Bavarian bier with the most lip-smackingly delicious fare, crafted to perfection by Hophaus chef, Marc Brown and his valiant team. We'll also be showcasing some one-off specials for the night, including biers from Weihenstephan, Weltenburger, Schlenkerla and a special brew 'never seen before in the country'.
Get on down to Hophaus
Melbourne's Longest Bavarian Beer Dinner
Wednesday 20th May
6:30pm – Late
($85.00 per head)
Bookings through Melbourne Good Beer Week